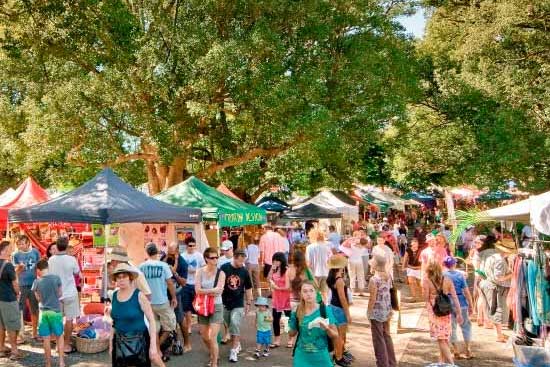 Courtesy-yronbayadventuretours
When visiting Byron Bay, the local markets here are worth a stop. From local food, to hand-made artwork, and more, you find such items being sold here. If you're someone who loves shopping then a visit to Byron Bay's local market is a must. Here are some of the best markets in Byron Bay.
Byron Bay's Farmer's Market – This market is located on the Butler Street Reserve, and opens on every Thursday. Here, you'll find local farmers bringing in fresh organic produce. As seasons change, so do the products. Products sold here include bread, coffee, honey, sugar cane juice and macadamia nuts.
Community Market – Community Market opens on the first Sunday of every month at Butler Street Reserve. Here, you can find a variety of items such as fresh prepared food, hand-made household wares, hand-made paintings and even imported items.
Artisan Market –The Artisan Market is a small market which opens on Saturday evenings. Located on Railway Park, this market showcases handicrafts and local art.
New Brighton Farmer's Market –This market is open on Tuesday, 22kms away from Byron Bay town. Here, you'll get to buy items such as olives, spices, cheese sourdough bread and many more local freshly produced items.
Byron Beachside Market – Located on the Main Beach, this market opens only 4 times a year. There are more than 200 stalls selling items such as gifts, toys, artwork and souvenirs.
Byron bay luxury holiday rental stays are available for those who wish to visit these markets and so some shopping.